The education of KR Rieck started as trainee for the austrian railway (ÖBB). The further qualification ranges from heater on steam locomotives via train driver of different engines to the administration of the austrian railways. After completing his duty, Rieck established as independent and developed very successful projects with his extraordinary experience of railway issues. Find below the unique CV of Gottfried Rieck and how he fulfilled his lifetime dreams.
Besides his professional career, Gottfried Rieck is happily married and father of three children.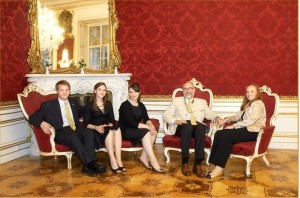 Curriculum Vitae
Personal details
First Name:                                       Gottfried
Family Name:                                    Rieck
Date of Birth:                                     October, 22, 1948
Family Status:                                   married, 3 children
Nationality:                                        Austrian
Resumé
Based on his special interest for trains and railways, Gottfried Rieck chose a career with the Austrian Federal Railways. He started as an apprentice, continued as a fireman and was then trained as an engine driver. His training and experience in the railway sector include the license as an engine driver for all Austrian steam engines as well as for 17 different electric locomotives. Based on his broad experience he proceeded to take the head-of-service examination and to serve as head of operations for 12 departments with their engineers and technical staff.
After his retirement, he used his extensive knowledge, experience and passion for trains to start-up the Majestic Imperator – Waggon Charter GesmbH – in August 1991. Majestic Imperator was dedicated to offer luxurious train voyages and related events. The company was 100% owned by the Rieck family until 2009 and was delevolped from a waggon chartering company into a fully licensed railway traffic corporation with highest level ISO 9001 certification.
Managed by Gottfried Rieck, the Austrian luxury train was an Austrian icon in the tourism sector, highly esteemed by tourism officials around the world.
By running the Majestic luxury train, Rieck and his company gained international esteem. Many journeys are still unforgotten by those who participated. Most voyages were conducted in Central Europe and therefore many European countries, cities and sights were promoted.
Besides reconstructing the luxury train itself, an international brand 'Majestic Imperator Train de Luxe' was established and supported by strong marketing activites. Gottfried Rieck's lifetime achievement so far is documented in books and several documentaries. In 2013 Gottfried Rieck was awarded the Marketing Grandprix in two categories, Silver and Bronze.
Besides, he shared the 3rd place (with Coca-ColaTM) for the most creative advertisement with "die Presse". Rieck has authored and co-authored two reference books, both of which were translated into eight different languages.
After 23 years of intensive groundwork, Gottfried Rieck terminated his activity in operations at Majestic Imperator and founded R.I.E.C.K. Railconsult. He is an internatuionally sought-after expert in railways, specialised in luxury train concepts for international railway companies.
Besides his professional career, Rieck founded a charity club to form a better future for african children: www.rieck-charityclub.org
Education
1955 – 1959 Primary School, Vienna, Austria
1959 – 1963 Secondary School, Vienna, Austria
1963 Apprenticeship, Austrian Federal Railways, Apprenticeship Workshop, Vienna, Wien-Penzing
1966 Vocational examination: electrician
1966 Vocational training: engine driver
1969 State examination: electric locomotives
1970 State examination: steam engines, advanced examination: boiler attendant and locomotive facilities. Licensed as an engine driver for all Austrian steam engines as well as for 17 different electric locomotives in Austria and in Germany
1974 Ship's Master Commission
1979 Diver Licence
1980 Pilot Student Licence
1985 Head-of railway-service examination
Privat Interests: Skiing, Tennis, Footbal, Riding, Diving
Career progression
1972 Youngest Austrian engine driver in high-speed trains, various trial runs
1985 Head-of-service examination, head of operations and chief operator of the largest train operation unit in Vienna, Wien-West (app. 320 locomotives and app. 500 operating engine drivers)
1988Promotion to the Federal Railways' headquarters, Vienna a chief-in-charge for scheduling and head of the operating engine drivers and technical staff
1991 Foundation of Majestic Imperator Train de Luxe Waggon Charter GmbH
1996 Leased by Majestic Imperator as principal manager
1998 Retirement from the Austrian Federal Railways after 35 years of active service
1999 Officer with statutory authority at Majestic Imperator – Train de Luxe – Waggon Charter GesmbH
2005 Takeover of the majority of shares and appointed as CEO of Majestic Imperator
2007 Awarded the Honorary title of Kommerzialrat, Commercial Counsellor, by the Austrian Chancellor
2008 Ranked #36 (of 1200) in the Austrian Business Magazine GEWINN's TOP 100 Entrepreneur Ranking
2010 Demise of the majority of shares to private investors
2011 Successful obtainment of a full licence as railway traffic and transportation company including ISO 9001 certification
2011 Demission as CEO, ongoing shareholder, Majestic Train de Luxe GmbH
2013 Foundation R.I.E.C.K. Railconsult., specialised in luxury train concepts for international railway companies
2017 Foundation R.I.E.C.K. Charity Club